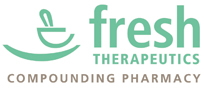 Fresh Therapeutics Compounding Pharmacy
The Blacktown Healthcare floor has a co-operative approach with mutually supportive practices. In this context, Fresh Therapeutics aims to deliver a "fresh" approach to pharmacy services - combining contemporary pharmacy practice including medication review, patient information and consultation with traditional compounding services providing customised medications and dosage forms.
Owners, Jeni Diekman and Ann Touchard believe that the best healthcare outcomes result from a close working relationship with the floor's doctors, other health professionals and patients.
Jeni and Ann's team of passionate, caring and customer focussed pharmacists is keen to solve therapeutic problems in consultation with prescribers and patients through review of medication histories or preparation of customised medications that better suit the patient's circumstances. For instance, freshly compounding drugs without preservatives for allergic patients; flavouring unpalatable drugs; making up medications no longer available in Australia; preparing slow release formulations. Prescribers can also consider different dosage forms such as transdermal patches, troches, sub-lingual drops or rapid dissolve tablets for those drugs with significant first pass effect. Other novel dosage forms include medicated lollipops and rectal "rockets".
Fresh Therapeutics provides the full range of services expected within a medical centre environment; is a stockist of hard to get drugs; makes available its drug information resources; and, relishes the challenges that are ever-present in a problem solving compounding practice.
Practice Hours - Open 7 Days
| Mon to Wed & Fri | Thu | Sat | Sun |
| --- | --- | --- | --- |
| 8.30am - 6.00pm | 8.30am - 9.00pm | 9.00am - 5.00pm | 10.00am - 4.00pm |
Contact Details
Address
Phone
Fax
Email

Level 3 Westpoint Blacktown, NSW 2148
(All correspondence to PO BOX 168 Blacktown NSW 2007)

02 9621 2168

02 9672 7166
pharmacist@freshtherapeutics.com